NGSgo®-AmpX v2 (incl. LongMix)
Singleplex amplification primer sets including polymerase enzyme
Benefits
Optimized version of AmpX
Single loci
Includes enzyme mastermix
Description
NGSgo-AmpX v2 is an optimized version of NGSgo-AmpX with a faster cycling time, colored primer pellet, and a convenient enzyme mastermix (GenDx-LongMix) included in the kit. Available for the amplification of the following HLA genes: HLA-A, -B, -C, -DRB1, -DQB1, -DPA1, -DPB1, -DQA1, -DRB3/4/5 and -G. Primers can be purchased in combined-loci kits or individually. They are compatible with all common sequencing platforms. NGSgo-AmpX v2 primer sets are available as RUO and CE-marked IVD.
Specifications
NGSgo-AmpX v2 features exactly the same HLA gene coverage as NGSgo-AmpX. The whole gene is amplified for the Class I HLA genes HLA-A, B and C. For class II HLA genes with extremely large introns, only the most relevant parts of the genes are amplified. For -DRB1 and -DQB1 there are also options with more extended coverage amplifying the whole (or almost the whole) gene.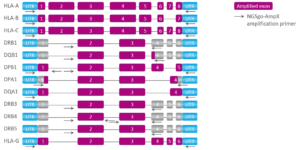 NGSgo-AmpX v2 HLAGeneSuite amplification coverage


NGSgo-AmpX v2 whole gene amplification coverage
To be supplied by the user:
Cold block
Pipettes and pipette tips with hydrophobic filters
Thermal cycler
Microcentrifuge
Vortex
PCR tubes (thin-walled 0.2 ml PCR tubes recommended by the manufacturer of your thermal cycler)
Agarose gel electrophoresis system
For more information please Contact Us or see the GENDX Website.
Product Table
Product Reference

Reactions #

Catalog #

HLA-A

96

7370162

HLA-B

96

7370262

HLA-C

96

7370362

HLA-DRB1

96

7370662

HLA-DRB1 All Exon

96

7370622

HLA-DRB3/4/5

96

7370762

HLA-DQA1

96

7370862

HLA-DQB1

96

7370562

HLA-DQB1 Whole Gene

96

7370512

HLA-DPA1

96

7370962

HLA-DPB1

96

7370462

HLA-G

96

7371062

HLA-A, B, C, DRB1, DQB1, DPB1

96

7371462

HLAGeneSuite

96

7371662

Multiplex A, B, C, DRB1, DQB1, DPB1

96

7371464