NGSgo®-AmpX (Amplification primers)
Singleplex amplification primers with proven reliability
Benefits
Succesful strategy since 2005
Single loci
Choice of 12 different HLA genes
Description
NGSgo-AmpX primer sets are available for amplification of the following HLA genes: HLA-A, -B, -C, -DRB1, -DQB1, -DPA1, -DPB1, -DQA1, -DRB3/4/5 and -G. Primers can be purchased in combined-loci kits or individually. Compatible with all common sequencing platforms. NGSgo-AmpX primer sets are available as RUO and CE-marked IVD.
Specifications
In this singleplex approach, the whole gene is amplified for the Class I HLA genes. For class II HLA genes with extremely large introns, only the most relevant parts of the genes are amplified.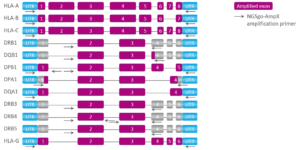 Amplification coverage
To be supplied by the user:
GenDx or QIAGEN LongRange PCR Kit
Pipettes and pipette tips with hydrophobic filters
Thermal cycler
Micro centrifuge
Vortexer
PCR tubes (thin-walled 0.2 ml PCR tubes recommended by the manufacturer of your thermal cycler)
Agarose gel electrophoresis system
For more information please Contact Us or see the GENDX Website.
Product Table
HLA-A

24

2340102

96

2340162

384

2340142

HLA-B

24

2340202

96

2340262

384

2340242

HLA-C

24

2340302

96

2340362

384

2340342

HLA-DRB1

24

2340602

96

2340662

384

2340642

HLA-DRB3/4/5

24

2340702

96

2340762

384

2340742

HLA-DQA1

24

2340802

96

2340862

384

2340842

HLA-DQB1

24

2340502

96

2340562

384

2340542

HLA-DPA1

24

2340902

96

2340962

384

2340942

HLA-DPB1

24

2340402

96

2340462

384

2340442

HLA-A, B, C, DRB1, DQB1

24

2341102

96

2341162

384

2341142

HLA-DPA1, DPB1, DQA1, DRB3/4/5

24

2341502

96

2341562

384

2341542

HLA GeneSuite

24

2341602

96

2341662

384

2341642

HLA-E (prototype)

24

2341202

HLA-F (prototype)

24

2341702

HLA-G

24

2341002